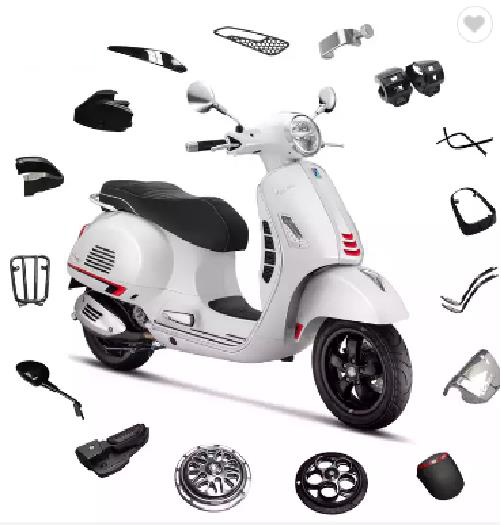 ---
---
In 1946 the first vespa was born in Italy.
Since its birth, its appearance has always maintained a consistent design language. With its one-piece frame, beautiful colors and unique shape, VESPA quickly swept the world. Piaggio has thus become a world-renowned motorcycle manufacturer.
Like Volkswagen Beetle and BMW MINI, VESPA is no longer just a means of transportation. It has gradually become a popular symbol and is welcomed by young people all over the world.
The retrofitting potential of VESPA is huge. You can modify its transmission system to give VESPA more power, or you can change the appearance according to your preferences.
Borske is a supplier from China with its own factory and R&D team.
Borske has developed a wide range of motorcycle accessories, motorcycle parts, scooter accessories and scooter parts.No matter what you want to add to your vespa, you can always find a satisfactory modification from Borske.
Some motorcyclists believe that installing a windshield will destroy the lines of the motorcycle and affect the appearance. In fact, the quality of the windshield of VESPA is very exquisite. Moreover, the windshield of VESPA is specially designed by professional designers, which will not affect the beauty of VESPA at all.
In addition, after installing the windshield, the riding comfort of VESPA can be greatly improved.
The windshield not only reduces wind noise, making the already quiet riding experience more pleasant, but also protects the rider from dust.
For white-collar knights who commute in formal clothes, adding a windshield to VESPA is almost a must-have choice.
High quality gear and mods will complement your VESPA. The front of the VESPA can be equipped with front protection bars, front shield guard, steering cover or suspension cover.
You can also add rear luggage rack, rear luggage carrier and leather top bag to the rear. Refit higher performance brake calipers to make your travel safer.
In addition, there are many recommended modification accessories, such as dashboard cover, folding black front rack, folding rear rack, vehicle cover, rubber foot mat, top box support, brake Lever, hand Grip, handlebar end, rear shock absorber , aluminum passenger footrest, footrest, side stand, rear guard, etc.
We must admit that VESPA has become a classic and is the best choice for people to pursue romance and individuality.