Our handlebars are made of high-quality aluminum alloy 6061 6063, with an anodized finish for a smooth, smooth finish for unmatched durability. Personalized print design for a unique style.
---
Download Motorcycle handlebar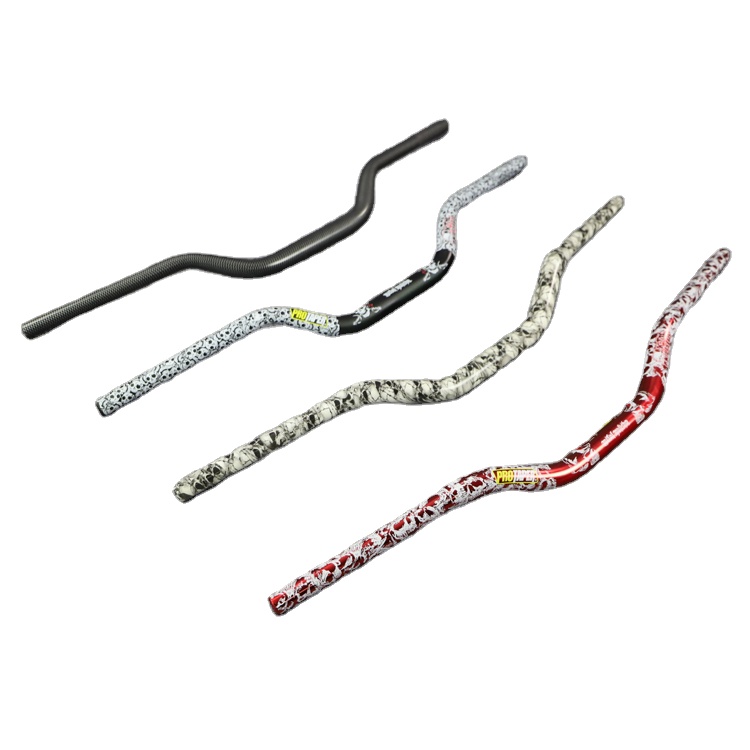 ---
---
Welcome to the world of Borske! The next text will introduce you to some handlebar knowledge.
Motorcycle handlebars can be divided into one-piece handlebars and split handlebars: The easiest way to distinguish the two is to observe the middle part of the handlebar. The split handlebar is designed to connect other devices at one end, such as a damper, to achieve the effect of the relative stability of the vehicle at high speed, so the overall installation position will be low. The one-piece handlebar is more inclined to be installed in a high position, such as a comfortable cruising motorcycle. One-piece handlebars also have the characteristics of the vibration of the road directly feedback to the rider, can be more intuitive to feel the changes in the road, so off-road bikes, etc. also use one-piece design.
If you put two handlebars with the same pattern design but different sizes in front of your eyes, how to choose:
First, you need to choose the right length, the length will affect the rider's physical sensation of using it during the ride. Different models or categories of users have different length requirements, too long or too short may lead to safe riding. Secondly, the diameter and thickness of the tube are also important reference factors. The diameter is one of the elements that determine whether the installation can be successful, while the thickness of the tube is one of the only two elements that determine the strength, and the other one is the raw material. This means that not each handlebar is suitable for all models.
What should do if the handlebar is damaged:
If only one end of a split handlebar is damaged, you only need to purchase that side again, but if the same problem occurs with a one-piece handlebar, you need to replace the whole part. In terms of convenience is the more convenient separate handlebar, but from the economic point of view, the two in the cost of the one-piece is more advantageous, even in the case we cited. Not to mention that we know that different handlebars are suitable for different driving needs.
Borske, as a professional vehicle parts supplier and manufacturer from China, provide high quality motorcycle accessories and scooter parts in past 12 years. Not only can bring high-quality products to our customers, but also can provide high-quality customization service to our customers, which is the reason why the company has been steadily developing upwards for more than ten years. If you have any customization needs, please contact us!