Our rims are made of top quality 6061/6063 alloy aluminum for excellent durability to keep your motorcycle running smoothly.
---
Download motorcycle rim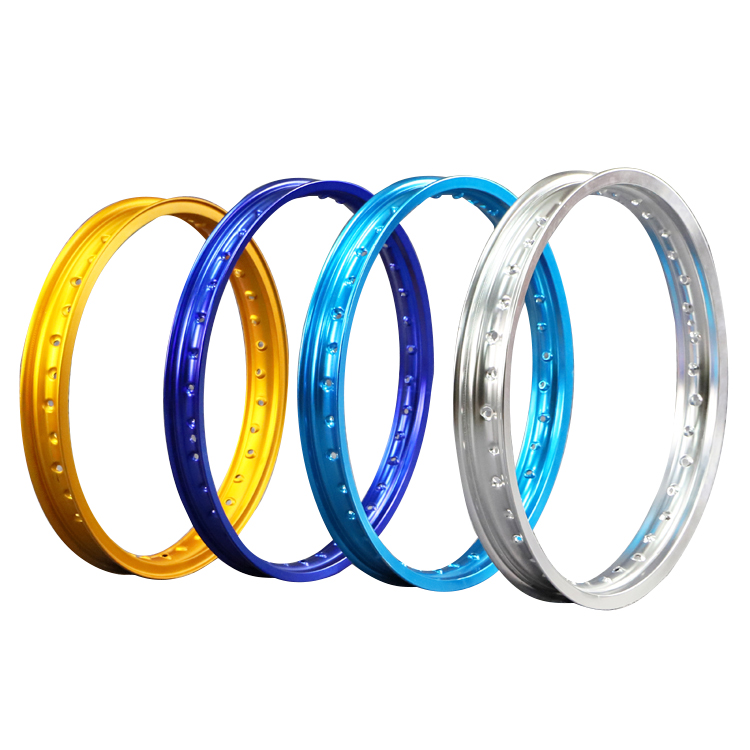 ---
---
Regarding motorcycle wheels, many people will ask such questions:
1.Do aluminum rims make a difference?
2. Are aluminum rims any good?
3. etc...
Motorcycle aluminum alloy wheels are divided into spoke wheel rims, casting wheel rims and forged wheel rims.
What we are going to talk about today is aluminum alloy spoke wheel rims.
For spoked wheels, which includes the main parts such as rim, axle and spokes, it needs to be carefully measured and installed to achieve a certain level of balance, and there are two main options, tubeless and tubed tires, depending on the design of the vehicle and the customer's need.
Advantages of Aluminum Spoke rims
The spoked rims we most often see are used on off-road motorcycles or Adventure motorcycles.
1. The design is more elastic and has better shock absorption performance,
2. The structure of the spokes is considered to be more flexible due to the even weight distribution of the external shocks.
3. The spoke rim is lighter in weight, making the motorcycle easier and more flexible to handle.
Disadvantages of spoked rims
The width of the motorcycle aluminum alloy spoke rim is relatively narrow, resulting in relatively poor balance.

When driving at high speed, the stability and grip area is small, making control more difficult.

It is more troublesome to replace.
If you also like motorcycle aluminum alloy spoke rims(aluminum front rim and rear rim), please contact us, we will customize the rims for you according to your needs and you can custom your own logo or color, as we are a supplier and manufacturer in China, with our own factory. We do wholesale business with motorcycle accessories & motorcycle parts and scooter accessories & scooter parts.